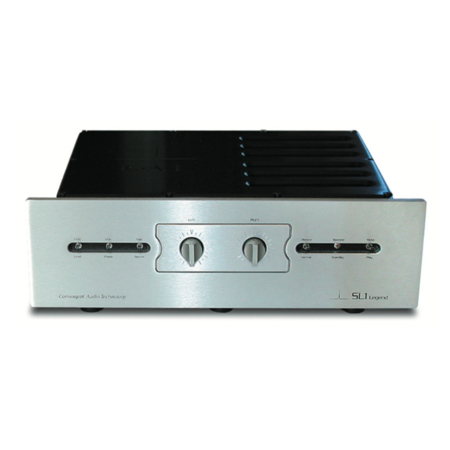 SL1 LEGEND BLACK PATH EXTREME
Une légende, c'est vraisemblablement le terme le plus approprié pour qualifier notre préamplificateur de référence.
D'innombrables préamplificateurs ont été qualifiés de « meilleur jamais conçu », « state of the art » ou bien encore « le dernier préamplificateur que vous posséderez », et cela pour finalement se retrouver reléguées dans un fond de placard ou bien encore mis en vente à vil prix sur un site d'annonce.
Le premier préamplificateur qui ai mérité ce surnom était sans aucun doute le Marantz© model 7, et plus particulièrement la version « 7 C «
Le 7C à été le préamplificateur le plus apprécié des années 50 et sa réputation a perduré pendant des dizaines d'années.
Une telle longévité dans le monde audiophile n'a pratiquement pas d'équivalent, et notre modèle CAT SL1 en fait partie depuis son lancement il y a trente ans.
Cette version LEGEND est à notre SL1 ce que la version « C » était au model 7 : une parfaite  expression  de la  perfection sonore jusque  dans les moindres détails.
Il s'agit de très loin du meilleur préamplificateur jamais conçu, et il ne fait aucun doute que cela perdurera pour les trente prochaines années, une légende ne disparait jamais.
Gain (@1kHz): Line 25.8 dB ("high") / 15.2 dB ("low"), Phono 47dB MM / 58 dB MC (low) / 64dB MC (high)
Gain Tracking: Line .05dB, Phono .05dB
Frequency Response: Line 0.1Hz to 1.5 MHz+0, -3dB Phono RIAA +/- 0.05dB 20Hz to 20kHz (MC & MM)
Harmonic Distortion (@ 1 volt): Line less than .0001% Phono less than .0005%
Slew Rate: Line 15 volts/microsec, Phono 10 volts/microsec
Maximum Output (@1kHz): Line & phono 50 volts rms
Input Overload: Line 1000 volts rms Phono MM 250 mv rms at 1kHz, MC 70 mv rms
Noise: Line High 98 dBA, Low 109 dBA below2 volt output MM 80dB below 1mv input. (0.10uv EIN) MC high 96 dbA below 1mv input (0.018 EIN)
Separation: Line greater than 100 dB Phono greater than 100 dB
Input Impedance: Line 50 kohms, 20pf Phono 47.5 kohms, 180 pf (user adjustable) MC 2,000 ohms
Output Impedance: Line 100 ohms, Phono 50 ohms
Maximum Load: Line under 4000 pf, over 5000 ohms Phono under 4000 pf, over 10,000 ohms
Dimensions: Main Chassis – 19.0" X 5.24" X 12.2" Power Supply – 12,2" X 4.0" X 6.0"
Weight: Net 80 lbs., Ship 85 lbs.
Power Requirements: 240 Volts , 50Hz, 80 watts (export version)
"There is honesty, beauty, and authority in the Legend's sound, and in equal parts." – SoundStage!
"The level of perfection [the Legend] reveals is almost unbelievable." – LP Magazine
Plus d'informations